WaterStorz - 7,000 Gallon Emergency Wanter Storage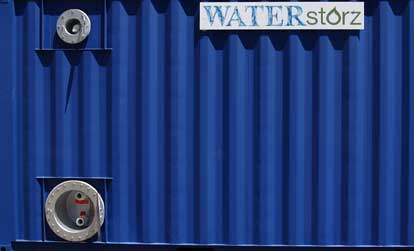 Make sure you have clean drinking water when disaster strikes. Store 7,000 gallons of potable water using Waterstorz. USDA, FDA, NSF61 approved liner keeps water safe in new ISO 8′x20′ containers. Fill from hydrants, water tanker trucks or even a garden hose. You don't have to tie up a water tanker for a day -- have it make two trips to fill your WaterStorz 20' portable water cargo container.
Low Cost, Short Term Rental or Long Term Lease
No need to purchase, just rent or lease a WaterStorz emergency water storage container. Store up to 7,000 gallons of drinking water in a WaterStorz with USDA, FDA, NSF 61 approved liner in a new ISO steel 20 foot container. Call us for emergency preparedness or delivery information or click below to get a quote. No foundation is necessary for WaterStorz which is ideal for truck accessible level ground. Global has been providing portable buildings and modified steel cargo containers since 1997. Call us Monday-Friday in Santa Rosa 8 a.m. - 5 p.m. PST at 1-707-566-0606 for fastest service.



Headquarters
3000 B Dutton Avenue
Santa Rosa, CA 95407, USA
Phone: 1-707-566-0606
Fax: 1-707-577-8649
Padlock the Port